The Hub is the downtown social area of Onverse. Whether you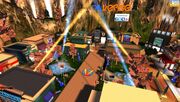 're looking for new clothes for your avatar or new furniture for your home, there are plenty of stores from which to find your favourite items. There is also the soon-to-be-famous Shark Tank, a night club like you've never seen before, surrounded by a giant aquarium filled with sharks!
Check out local attractions, such as:
The OV Central (formerly known as The Promenade)
Metroview Apartments
Mist Lounge (formerly Aquatix Lounge)
Statue Peak
Slide Golf
Pleasant Park
Summit Lodge
Biggy Sporting Goods
Kicks
The Onverse Store
Factory Fresh Imports (formerly Nic Naks)
The Stables
Bling: Jewelry & Accessories and more!
Home Improvement
The Secret Spot (also known as Seymour's Spot)
His 'n Hers (formally Dudz)
Subculture
Arctic Apparel
Tidal Wave
All furniture stores were moved to a separate instance known as Home Improvement.
Past Areas/stores
Edit
Former Hub Attractions/stores:
Techtronics: Technology on the Cutting Edge (now on Ancient Moon)

Amore: Gift Boutique
G4M3L4ND (formerly The Arena)
The Tech Center
Vroom Autosports (Now found in Tangerine Coast)
Dudz
Interior Greenery (Moved to Home Decor, now found as Sprouts)
Hall of Heroes
Sprouts: Outdoor Goods (recreated from Interior Greenery) (Now found in Home Improvement)
Motion (Now found in Home Improvement)
Home Decor (Now found in Home Improvement)
The Ampitheatre (Now Virtual Burger)
Grand Casino (Moved to separate instance)
Bright Idea: Lighting & Decor (Now found in Home Improvement)
Chillax Furnishings (Now found in Home Improvement)
Overtone: Guitars Amps Drums Gear (Now found in Bling)
Art Gecko (Now found in Home Improvement)
Essentials: Kitchen, Bath & Appliance (Now found in Home Improvement)
Toys 'n' Trinkets (Moved to Home Improvement)
Regalia
Mist Lounge has had two major changes. It was originally leveled to the Beach's ground during the first versions. Passed some time, a hill was created where it would be placed. Finally, after the Hubsplosiona complete make over was done, giving it a pool, various sits and a portal in OV Central.
Although it is usually believed The Domo store was removed due to popular demand, the reason was actually because the paternship between Domo's comany and Onverse ended.